Australia | Austria | Belgium | France | Germany | Netherlands | New Zealand | UK | Add/Amend Details
Local User Groups
Why not meet local RISC OS enthusiasts and make new friends? Choose a country on the navigation bar above and see what local user groups are in your part of the world.
If you would like to advertise your local user group, or start up a new one, please complete our online usergroup form.
UNITED KINGDOM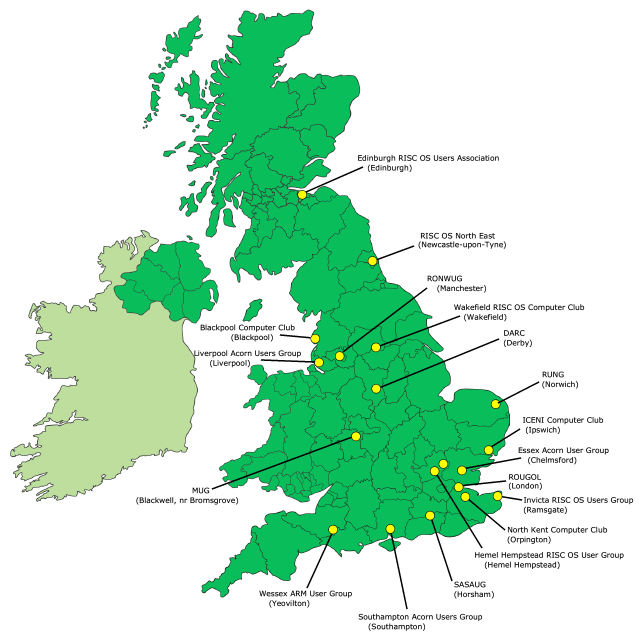 Location: Blackpool
Contact: Maureen Lewtas
Location: Derby
Contact: Paul Mellor
Web Site: www.darc-tech.org.uk/
More focussed on technology in general these days, rather than focussing on any specific operating system, DARC welcomes everyone interested in computers, gadgets and anything techie.
Location: Edinburgh
Contact: Michael Marshall
Web Site: homepages.enterprise.net/micm/Sites/ERA/
Location: Chelmsford
Contact: Frank Watkinson
Web Site: www.eaug.org.uk/
Location: Hemel Hempstead
Contact: John Sandford
Web Site: http://hhrug.org
Location: Ipswich
Contact: Peter Dunn
Web Site: icenicomputerclub.users.btopenworld.com
Location: Ramsgate, Kent
Contact: Peter Campbell-Banks
Web Site: http://irug.kevsoft.co.uk/
The Invicta RISC OS Users Group is an East Kent Group. Meetings are held on the third Wednesday in the month, commencing at 7.30pm, at the Royal Naval Association Club, 9, Church Hill, Ramsgate, Kent. CT11 7EF
Phone Peter on 01843 850015 or 07854 055060 for more information.
Location: Birkenhead Boys School, Bidston Road, Oxton, Wirral
Contact: Steve Hull
Web Site: www.orpheusweb.co.uk/bob.williams/laug/
Meetings held on the 2nd Tuesday of each month.
As usual friends family and colleagues are welcome to attend.
The club can also act as a general help-group for those who attend.
Refreshments are provided.
Location: Central London
Contact: Neil Spellings
Web Site: rougol.jellybaby.net
Location: Sale, Manchester
Contact: Kathy Cartmell-Browne
Web Site: www.ronwug.org/
Location: Blackwell, Nr Bromsgrove. (Just off jct1 M42)
Contact: John Rickman
Web Site: www.mug.riscos.org/
Meetings are normally held at 2pm on the 3rd Saturday of odd months of the year at The Methodist Church Hall, Greenhill, Blackwell Bromsgrove B60 1BL. A small entrance fee of £2.00 is normally payable to cover costs and refreshments are available.
Location: Orpington
Contact: Richard Nevill
Web Site: www.nkacc.org.uk/
Multi-platform club with a good sprinkling of RISC OS users.
Location: Newcastle-upon-Tyne
Contact: Michael Bell
Location: Holy Trinity Church Hall, Cambridge Street, Norwich, NR2 2BA
Contact: ---
Web Site: www.deloney.demon.co.uk/rung/
Location: Southampton
Contact: Dave Higton
Location: Horsham
Contact: John Sawer
Web Site: www.sasaug.org.uk/
Location: Wakefield
Contact: Chris Hughes
Web Site: www.wrocc.org.uk/
Location: Welwyn Garden City
Contact: Mark Empson
Web Site: www.bigfoot.com/~whcc/
Location: Yeovilton Near Yeovil
Contact: John Stonier
Web Site: www.waug.org.uk/