Wiring a Serial cable for legacy Acorn computers
Here follows a diagram of the necessary connections for common terminal programs to work properly. They are as far as I know the informal standard agreed upon by commercial comms software developers for the legacy Archimedes range.
Pins 1, 4, and 8 must be connected together inside the 9 pin plug. This is to avoid the well known serial port chip bugs. The modem's DCD (Data Carrier Detect) signal has been re-routed to the Arc's RI (Ring Indicator) most modems broadcast a software RING signal anyway, and even then it's not really necessary to detect it for the modem to answer the call.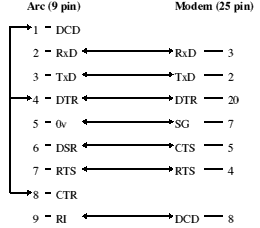 Of course you can connect the Modem pin 20 to any one of pins 1, 4, or 8 on the Archimedes plug, as they are all connected together anyway.
Chocks Away Extra Missions (the flight simulator from 4th Dimension) suggests that the serial cable be wired as above except that pins 1-4-6 are connected together and the modem's CTS (pin 5) be connected to the Arc's pin 8 (ie the connections at pins 6 and 8 be swapped over at the Arc's end). This has been tried and it also seems to work fine.
This data was previously in the Comp.Sys.Acorn.* FAQ Q2.7
Add a comment to this article
If you wish to add a comment to this article, please use the form below. Please note that by submitting comments using this form you are allowing all of the information submitted to be visible on this website. Your comment will be published immediately, so please proof-read before you add. Any comments deemed to be abusive or irrelevant to the topic of the article may be removed without warning.